Kashmir lies in the lovely valley of the Himalayas. It is not only a breathtaking location but also a site rich in cultural legacy. The Kashmiri Pandit wedding is nothing short of a stunning fantasy brought to life in the midst of their rich culture and ethnicity. It involves many Kashmiri Pandits marriage customs which we have discussed below.
From their pre-wedding ceremonies through their wedding attire, it is a series of mesmerizing components. Thus, lets let a look at several Kashmiri Pandits marriage customs that take place.
Most notable Kashmiri Pandits Marriage Customs:
Pre Wedding Rituals
Livun
Pronounced 'li-vun,' this entails cleaning both the groom's and the bride's homes. The pandit has chosen an auspicious day for the wedding. Later, the houses are decorated with beautiful flowers – this simple ritual is known as 'krool khanun' in Kashmiri households. It gives the house a festive look and feel.
Maenziraat
Also known as Mehendiraat. The girl's hands and feet are adorned in intricate designs with henna paste on the day. Just before this, the bride's maternal uncle and aunt wash her feet in a one-of-a-kind bathing ritual.
The celebration continues into the night also with the elderly singing Kashmiri folk songs. Everyone dances, and an occasional serving of 'kehwa,' or Kashmiri tea, to add flavour to the function, especially during the winters.
Haldi ritual
This is the ideal time to rub haldi with love and affection on the bride's face and arms. Everyone lathers haldi paste on the bride, from the maharani's (bride in Kashmiri) brothers and sisters to her maternal and paternal aunts. Grooms side also follow the same procedure. Buckets of cold water mixed with curd.
Later it is poured onto the bride through a linen type cloth as part of the bathing ritual. Following that, both the bride and groom change into new clothes before puja. On this particular day, the couple observes a fast. Family members shower jewellery , suits and sarees on the bride.
The Wedding Day
Lagan
'Lagan' is a common wedding name in Kashmiri. The groom's family is greeted with a rousing welcome on the big day. Families greet each other and exchange nutmeg. It represents the relationship's acceptance. Before the groom enters the house, conches are blown.
The 'auspicious hour,' 'auspicious time,' or'muhurat' is usually chosen after midnight. While Kashmiri pandit weddings have seven pheras, the priest performs puja at the mandap before calling in the groom, followed by dwar puja.
Kanyadaan
The kanyadaan is then performed, followed by the customary 7 pheras (chakkars). The hands are wrapped in a special cloth known as "Athwas," and a golden thread is tied to their brows.
Another ritual is 'Saptapadi,' in which the couple takes seven symbolic steps while announcing the seven marriage vows. This also marks the symbolic start of their journey together. Throughout the ceremony, the groom tightly grips the bride's hands.
Posh Puja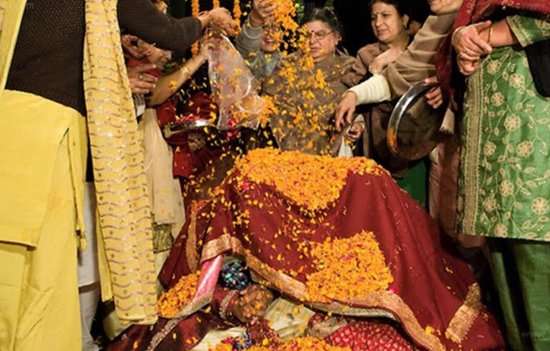 The flower shower is an intriguing addition to the long list of Kashmiri wedding functions. A red cloth is draped over the couple's heads, who are sitting close together in this. Family and friends shower flower petals on the now-almost-married couple as vedic mantras are recited.
Post Wedding Rituals
Fun and games
After the couple has tied the knot, the fun begins. The newlyweds now play small, fun games like finding a ring in a pot of rice and feeding each other from a thaali of Kashmiri veg delicacies like dum aloo and chaaman (paneer). This is a special moment, and photographers are swarming around the newlywed couple.
Vidaai
Just before leaving, the newlyweds are made to stand on a wooden pedestal known as a 'vyoog.' The bride's family's eldest female member kisses them on the forehead. After that, the bride hugs her parents and all the members of her family.
It is done before throwing a handful of raw rice over her shoulder, praying for the long prosperity of her paternal home. She also has a handful with her to scatter at the front door of her new home.
Welcoming the bride at her in-laws' home
The bride is greeted warmly at her new home. The couple is fed some nabad just before entering the house. The threads tied on both of their heads are also exchanged.
This is usually followed by some chit-chat in which the newlyweds are teased . Furthermore, bride meets more members of the groom's family and take their blessings.
Saatraat
When the couple visits the bride's home, they are accompanied by one or more children. There, she is given new clothes, which she must wear before returning to the groom's house, according to tradition. During their visit, the couple also enjoys a lavish meal.
Phirlath
In this simple ceremony, the bride's parents arrive at the newlyweds with additional gifts. They are treated to a delicious meal by their new in-laws.
Ghar Atchun
The athoor, a small gold ornament, is pronounced "gaar atchun," where "gaar" refers to a "ghar" or "house" and "atchun" refers to "to enter." Bride's family host a formal reception . The bride and groom arrive in their finest attire.
The vegetarian meals served to the guests on this day are strictly adhered to. The menu also includes authentic Kashmiri non-vegetarian delicacies at a separate reception organized by both families. This also brings the week-long wedding celebrations to an end.
Wedding Jewelry
Dejhoor: Kashmiri Pandit women wear Dejhoor as a mark of their marital status. It is pierces through the top ends of the upper cartilage of the ears. It consists of 'Aath', a thin gold chain that replaces the red thread after the marriage ceremony.
Athoor: Athoor is a fringed decoration that accompanies a hexagonal-shaped gold Dejhoor. The athoor, a small gold ornament, is also attached to the Dejhoor. The Dejhoor symbolizes a yantra denoting Shiva and Shakti.
Kaskar: These bangles are made of gold. They are also thick, and are worn by brides in addition to other bangles. They are also a very important part of Kashmiri Pandits marriage customs.
Gunu: The Gunu is a bold and thick gold bangle. It is forged out of gold and also features an animal head design where both ends meet.
Wedding Cuisines
Cuisines are also a very important part of Kashmiri Pandits marriage customs. Lets take a look at several cuisines served in marriages.
Nich chaman: This dish is made with paneer that has been cut into small pieces furthermore cooked in turmeric and curd to give it a mild yellow colour.
Dumaalu: A mouthwatering dish made from spice-cooked potatoes.
Nadrooyakhni: This dish consists of chopped lotus roots cooked in milk and curd.
Nadroo hakh: This dish also combines lotus roots cut into diagonal pieces and cooked with Kashmiri saag (collard-greens).
Czhock wangun: This dish combines brinjal cooked with spices to create a delectable bitter-sweet flavour.
Vyath chaman: This dish is made with paneer (cottage cheese) that has been cut into large chunks and cooked with spices.
Mujchatni: This dish is made with grated white radish, green chilly, and curd.
And there you have it! A brief article on Kashmiri Pandit Marriages and we hope you liked this article. Go ahead and like share this article and also leave us a comment about suggestions and your experiences.