Kashmir Valley is well-known for its breathtaking scenery, scenic drives, and charming locations. However, it is also well-known for its baking culture. What is less explored and discussed is Kashmiri Pandit cuisine, which belongs to the Brahmin community of the northernmost state.
It is not as widely available as food lovers or other curious people would like. But the local community has successfully preserved their history and identity through their cooking style. Lets take a look at 13 delicious Kashmiri Pandit cuisines in brief.
Top 13 Kashmiri Pandit Cuisines
Chicken Yakhni
Kashmiri non-vegetarian dish made with chicken that is slow cooked in yoghurt. It is typically flavored with Kashmiri spices and garnished with a lot of dry mint. Kokur Yakhni has an incredible aroma that is truly exotic. Curry is served with steamed rice and a side salad. It is one of the popular Kashmiri Pandit cuisines.
Monj Hakk
Kholrabi is sliced with collard greens cooked in mustard oil, hing, and whole red chilies. Although native to Europe, Kohlrabi is a combination of the German words. Kohl meaning cabbage and rabi meaning turnip. It is also a celebrated vegetable in Kashmiri cuisine in India.
Chok Wangun
The tangy gravy dish 'Kashmiri Khattey baingan' or 'Chok Wangun' best represents the simple yet robust flavours of Kashmiri cuisine. The eggplants are crispy fried before mixing in a gravy with a few dry spices and tamarind. This dish, like all Kashmiri Pandit cooking, is also devoid of tomatoes, onions, and garlic.
Dum Aloo
One of the most popular north Indian curries is Kashmiri dum aloo. Deep-fried baby potatoes are cooked in a delicious gravy of curd. A variety of spices such as Kashmiri red chillies, fennel powder, cardamom powder, cumin-coriander powder, ginger, garlic, are also added.
Boiled whole medium-sized potatoes that have been deep-fried and slow-cooked in Kashmiri red chilies, spices, and whole gramme masalas.
Talit Gaad
It is a thick fish curry infused with mustard oil, ginger powder, fennel powder, and hing. These give the curry an incredible flavor. The fish curry has a tomato base. It is typically served with plain boiled rice and crispy papad on the side.
Chaman Kalliya
It is cardamom and fennel flavored paneer cooked in whole milk. Rich, creamy, and with just the right amount of spice. A dish that is so simple to prepare that you may want to make it more frequently.
And it is frequently prepared in Kashmiri homes, especially when there is a Vegetarian feast. Kashmiri Wazwaan cuisine is famous for its meat dishes, but when done correctly, vegetarian cuisine can be quite amazing as well.
Modur Pulao
Modur pulao is a sweet Kashmiri pulao. It's packed with dry fruits and nuts and made with ghee. The pulao is typically served with a spicy curry on the side. Basmati rice is used, and it is flavored with saffron. This rice is so rich and perfect for festivals or parties when cooked in milk, cream, or a combination of the two.
Kashmiri Kehwaah
Kahwa is a fragrant, mild green tea from Kashmir that is made with whole spices, saffron, and almonds. Kahwa is a warming tea that is best served hot. Using whole spices and saffron, Kashmiri Kahwa is warming for the body, which is ideal for Kashmir's cold climate. It is also one of the most popular Kashmiri Pandit cuisines.

Rogan Josh
Rogan josh, also spelled roghan josh or roghan ghosht, is an aromatic Kashmiri curried meat dish. It's made with red meat typically lamb, mutton, or goat and is primarily colored and flavored with alkanet flower (or root) and Kashmiri chilies. It is also one of Kashmiri cuisine's signature dishes.
Kabargah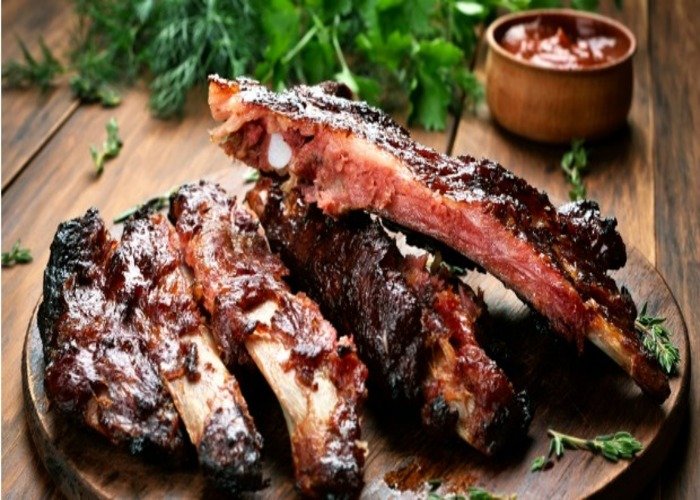 Kabargah is a traditional Kashmiri meat rib preparation. Ribs of young lamb or goat are cooked in a special milk and spice blend before being fried in ghee. Every celebration in Kashmir revolves around food.
It's no surprise that their dishes are very very slow-cooked with a lot of love and patience. Kabargah is a common addition to a celebratory Kashmiri meal and is also an excellent snack for non veg lovers.
Keema
Methi Keema is a spicy curry made with minced mutton (goat meat) and fresh fenugreek leaves. It pairs well with laccha paratha or naan.
Veth Chaman
Veth Chaman is a Kashmiri Pandit preparation that is completely vegetarian. Also, it is prepared without the use of onion or garlic. As a result, the dish is frequently served at auspicious occasions, weddings, and other celebrations.
Chaman, which translates to Paneer in Kashmiri, is a flavorful broth spiced mildly with curd and other spices that makes for a very interesting recipe.
Palak Nadir
Palak nadir, also known as spinach and lotus stem curry, is a Kashmiri dish that is typically prepared for religious ceremonies or at home. Despite the fact that only a few ingredients are used in this quick recipe, the end result is earthy and delicious.
It also makes use of only dry masalas, aromatics, and the one-of-a-kind addition of black salt. This delicious curry pairs well with steamed rice or roti.
You should try these cuisines and enjoy these tongue pleasing foods. And, if you've already tried these cuisines than make sure to share you experience with us in the comment section down below. Also make sure to like and share this article.
You may also like Kashmiri Pandit Marriage Customs.